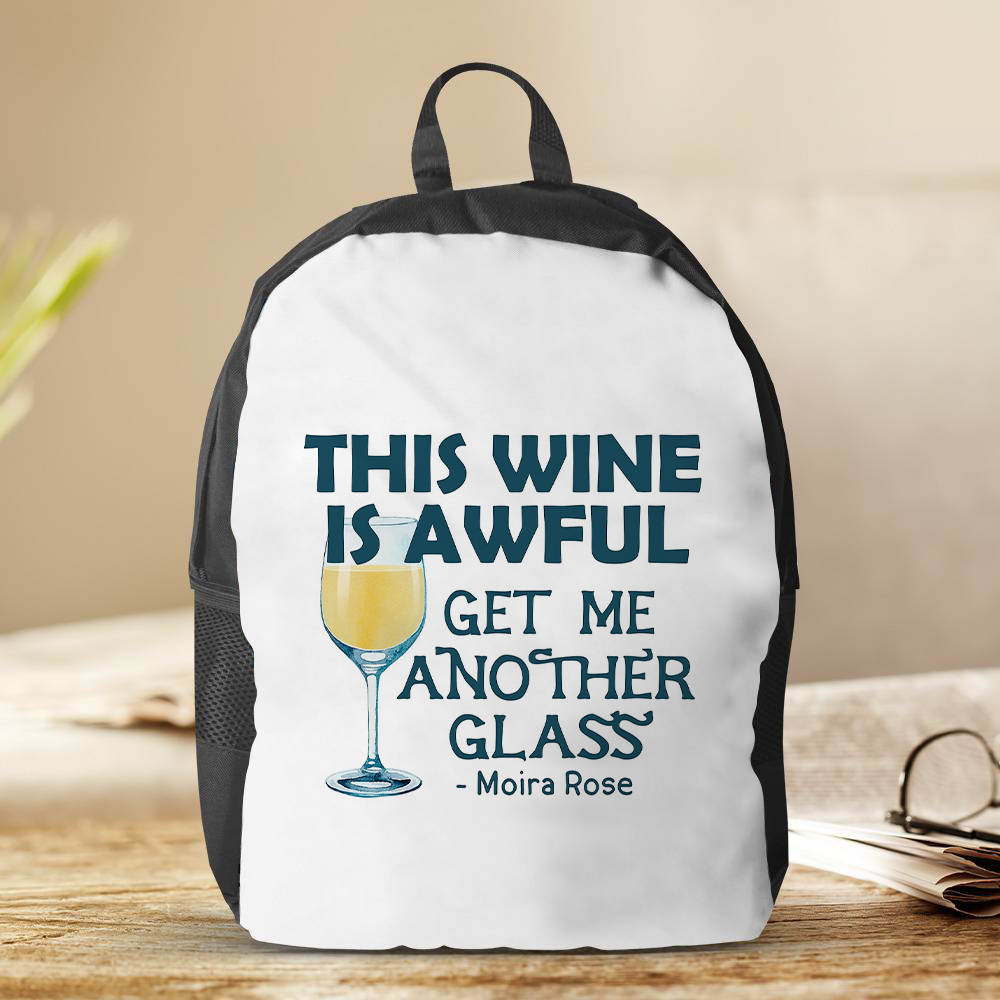 Schitts Creek Backpack This Wine is Awful Get Me Another Glass Backpack
description

Design your everyday with Schitts Creek backpack you will love to snuggle up with. Match your style with patterns and designs from our professional design team. Original design. Create a personalized gift with a photo of Schitts Creek.
Material: This backpack is made of water resistant and durable Oxford cloth with metal zippers.
Product Size: 16.5" * 12.5" * 5.5"
Applicable People: Recommended for Age 6+
Applicable Scene: School, travel, climbing, shopping, zoo, park, outdoor sports, etc.
shipping

Free shipping for orders over $49

You can choose the shipping method during checkout:

Standard shipping: $7.99

Arrives 7-15 business days after the production time

Express Shipping: $29.95

Delivery 4-6 business days after the production time
This Is Schitts Creek Merchandise Shop
If a rich man suddenly becomes poor, how would he react? What will he do? Schitt's Creek takes you through such an experience.
Schitt's Creek is a Canadian comedy series created by Daniel Levy and his father Eugene Levy. The show has a total of 80 episodes. The series follows the trials and tribulations of the once wealthy Ross family. Johnny and Moira, along with their adult children, David and Alexis, lost their former wealth in an instant after their business manager appropriated the family business Rose Video. The family lost their possessions and moved to Schitt's Creek, a town that Johnny used to joke about buying. Now living in a dilapidated motel, the family must adjust to a new life without wealth.
Why Choose Schitts Creek Merchandise Shop?
We have prepared a wide range of Schitts Creek collections for you. If you are a fan of the TV show, this is a shop you can browse again and again. What's more? We only sell top-quality merchandise. All our products are subject to strict quality inspection. We have a strict production process to ensure to provide customers with the best quality service.
We invite you to explore the products at our Schitts Creek Merchandise Shop to find your favorite Schitts Creek product. You can buy it safely as it is always our top priority, and our payment methods are trusted by the most reputable sources.
What Can You Get from Schitts Creek Merch Shop?
For all the Schitts Creek fans, we have prepared a variety of Schitts Creek items, such as Schitts Creek Cloth, Schitts Creek Accessories, Schitts Creek Decoration, and more. They are of high quality and fashion style.
Schitts Creek Hoodie: Schitts Creek Hoodies are loose and casual, and it is not only thin but also thin when worn! The style is also full of vitality for age reduction, and the thin fabric is not very thick. Perfect with wide-leg pants, slacks, and jeans! Go and choose your Schitts Creek Hoodies.
Schitts Creek Blanket: Our Schitts Creek Blanket can be used in many ways and in different seasons. In spring and autumn, it can be a thin quilt due to its light, soft and warm features. It fits snugly but is quite breathable, making it a rare bedding item.
Summer is the ideal summer quilt. Although it feels fluffy to the touch, even a thicker blanket is quite breathable and comfortable to cover.
Best Seller - Schitts Creek T-shirt
As a Schitts Creek fan, how can you not have a Schitts Creek T-shirt?
Schitts Creek T-shirt has many sizes you can choose from. the lightness of the fabric also makes the wearer feel more free and easy and elegant.
Because the cutting design of the styles is relatively simple, you can mix and match with the styles in the store at will. If you like a cool, easy-going style, try this T-shirt from us.
Our Mission - Schitts Creek Merchandise Shop Promises
Customer First: If you have any questions, please contact us. We will reply as soon as we can.
Fast Delivery: we aim to make your merchandise in your hands as soon as possible.
Affordable Price: We have merchandise at different prices so we are sure that you can get what you want.
High Quality: Our merchandises are durable, We believe you will purchase again.